New art program helps veterans with PTSD, depression | Mission SA
Written by Staff Writer on November 4, 2019
A new program is helping veterans with PTSD, depression and other disorders heal through art. Bihl Haus Arts is behind the initiative.
SAN ANTONIO — Bihl Haus Arts, a non-profit art gallery, is offering art classes for veterans called Forward Arts. The group partners with Vet TRIIP, a non-profit organization dedicated to providing alternative therapies, to help these veterans.
"When their veterans graduate from their program, they come to us and take our classes," explained Kellen McIntyre, Bihl Haus Arts executive director. "Our veterans are either self or clinically diagnosed with PTSD, traumatic brain injury, military sexual trauma or depression. So, they come to us and they take our classes, and we see results really quick.Changes in their perspective and how they're relating to the community."
The classes are held at St. Andrew Presbyterian Church on Callaghan road. Bihl Haus Arts says one of the veterans who took the class was inspired to pursue a career in art. Dan Gamez enrolled at a local college to get his art degree.
"We've had several others open studios. So, it's working, it's changing lives. We believe that art heals and art saves lives," said McIntyre.
Some of the veterans who took the classes will have their work on display at the Bil Haus Arts building. One of the organizers and artists, is Army veteran Mario Lopez. He served overseas in Iraq and Afghanistan. In 2008, he was hit by an IED. Lopez suffered burns on 54% of his body and was forced to have his right arm amputated. He also, suffered loss of vision in his right eye, and loss of four fingers on his left hand. He was awarded the Purple Heart for his bravery and sacrifice.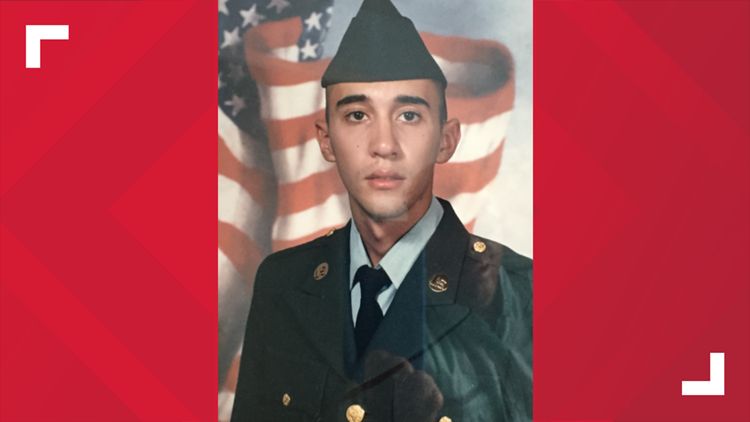 Mario Lopez
Lopez said he enjoyed creating art before his military service. He picked up the craft after he sustained his injuries and said art is a form of therapy that's helped him move forward. He said his pieces express joy and optimism.
"Art for me is just another form of communication like someone would write a book or someone would dance," said Lopez. "It's very nice to know that someone could purchase something of mine, hang it in their house. It just adds to the human experience."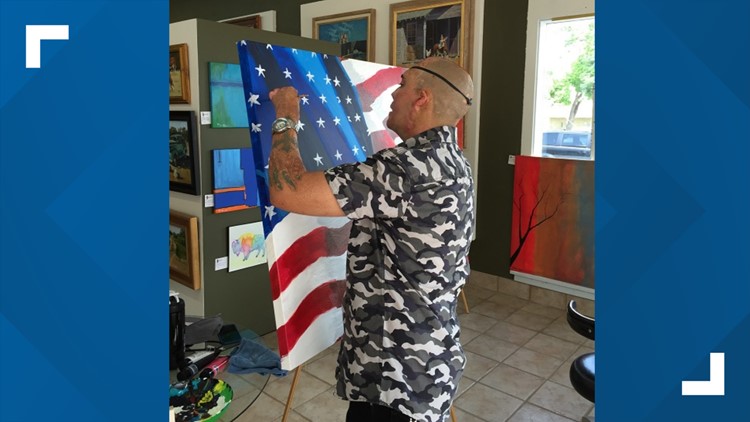 Mario Lopez
You can check out all of the veteran's art pieces at the opening reception Friday, November 8th from 5:30-8:30 p.m. at Bihl Haus Arts, 2803 Fredericksburg Road, San Antonio. Organizers said light appetizers will be offered by the pool and alternative rock band, Three Beards, will be performing at the event.ADVERTISEMENT.st0{fill:#fff}Ad.cls-1{fill:#fff}.cls-1{fill:#fff}Unmute
by Taboolaby TaboolaSponsored LinksSponsored LinksPromoted LinksPromoted LinksYou May LikeWells Fargo30K Bonus Points Intro Offer – Learn More!Wells FargoUndo2020 Chevy Vehicles | Search AdsThe New 2020 Chevy Lineup Is Here And It Astonishes!2020 Chevy Vehicles | Search AdsUndoRefinance GoldAt 89, This Is The Car Clint Eastwood DrivesRefinance GoldUndoDefinitionThe Pawn Star Find That Made Chumlee RichDefinitionUndoBeverly Hills MDThe One Trick To Erase Wrinkles That All Moms Born In The 60s Should KnowBeverly Hills MDLuxury Cars | Search AdsBest Luxury Vehicles for Under $50kLuxury Cars | Search AdsUndoInsured NationTexas Senior Drivers Who Drive Less Miles a Day Are Entitled for Extra Rate DecreaseInsured NationUndoGundry MD | SupplementDefeat The War In Your Stomach – Top Yale Surgeon Explains HowGundry MD | SupplementUndoTotal Restore SupplementUS Cardiologist: It's Like a Pressure Wash for Your InsidesTotal Restore SupplementUndoLuxury Cruises | Search AdsYou've Never Seen Luxury Like This On A Cruise Ship. Research Luxury Mediterranean CruisesLuxury Cruises | Search AdsUndoHomeAdvisorHire a Handyman in Converse TodayHomeAdvisorUndoSilverSinglesThis Is Where the Majority of Singles Over 50 Are Finding Love in ConverseSilverSinglesUndoAncestryThe Story Behind Your Last Name Will Surprise YouAncestryUndoSupport PetsThis One (Legal) Trick I Use To Bring My Dog Everywhere!Support PetsUndoHome Solar Programs QuotesAnyone Considering Solar Should Read ThisHome Solar Programs QuotesUndoTop Lawyers | Search AdsCurrent Going Rates Of Lawyers In Converse Might Surprise You – Check NowTop Lawyers | Search AdsUndoPetlab CoDog Owners Swear By This Incredible Joint ChewPetlab CoUndoTecovasThousands Are Switching To This New Cowboy Boot (Here's Why)TecovasUndo
---